A rainy day on Kentucky waters saw 127 teams battle it out on day two of the 2013 NBAA National Championship in Gilbertsville, Ky. Today's weigh in was marked the Black Division Championship day where black division qualifiers compete for the top fifty spots to advance to Saturday's Ultimate Championship finals. Stuart Cavner and Andy Scheuller led it today with 21 lbs 4 ounces.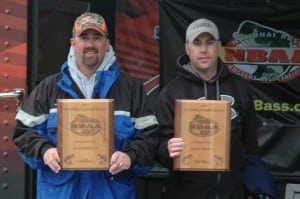 Tomorrow, the top fifty teams from both Blue and Black Championship days will meet to decide this year's NBAA National Champions on Kentucky Lake.
"We've fished three national championships and came up short in second; this is our division win," Cavner and Scheuller said.  "We're definitely glad to finally take the title, and we hope that's also the case tomorrow."
Coming in second, were Karl Kearcher and Carlos Vergara with a respectable 19lbs 2ounces. The team will be among the fifty to advance to the Ultimate Championship finals tomorrow.