NBAA Indiana State Tournament Report 2014
It was a cool and blustery day on the Ohio River. All year some of the best Ohio River fisherman have struggled, so this was not going to be an easy challenge.
Arriving to vie for the State Championship were 7 teams. Fishing from 7:30 am to 3:30 pm it was just as expected a tough day on the water with only 1 limit weighed in. One team spent most of its day on the Main River, while others fished the Main river and creeks feeding the Ohio River.
Cleanest water was on the Main River. All the creeks were stained and with limited sunlight the bait was not near the surface.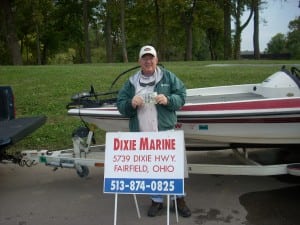 Top Finisher:  Mark Johnson with winning weight of 6.92 lbs and the only limit.
2nd place:      Fred Von Rissen and Tim Rowe    –        4 fish – 5.26 lbs
2 Places were paid for Big Bass
Largest Big Bass was:        2.42 only fish for Todd Gadberry and Jerry Duncan
2nd Big Bass:                              2.38 by Mark Johnson
Special thanks to this year's Sponsor:
          Dixie Marine: Ranger and Triton Dealer located in Fairfield, Oh.