Less than a week away now, the 2015 NBAA National Championship kicks off on Kentucky Lake next week at the Kentucky Dam Marina S.P. NBAA Divisions nationwide qualified team to fish their state championships in 2014 where only the top 10% of teams from each state are invited to attend the NBAA National Championship this year where $40,000.00 and cash and prizes will be awarded to the select field fishing this event. (which is more than a 10% increase in payout over 2014's 36K in cash & prizes awarded at last years Championship)
Anyone can form a NBAA division anywhere in the US and get started today on qualifying for next years limited field, high payout event were the top prize each year is a new Ranger 178 RT with a Evinrude Outboard! Click here to get started.
You REALLY want to get your NBAA division up and running for 2015 because based on YOUR angler feedback we have DOUBLED the percentage of each state who will qualify in 2016 to the top 20%! It will still be a select group advancing and competing  in the high stakes event, which makes the odds of winning very good! It does not get much better than that!
Full schedule of event for this years event is posted in the story below this one.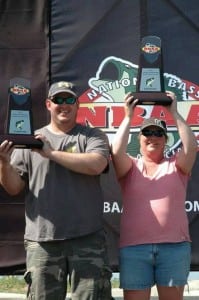 Last years National Champions from Grand Lake Oklahoma Jason and Jennifer Willbur!