A special thanks goes out to all participants, families (both present and at home) for coming and supporting the 2014 NBAA National Championship! The event was held on Grand Lake, OK by the City of Grove, OK in partnership with Grand Lake Association, and Indigo Sky Casino. All we can continue to say is
THANK YOU

for your continued support!
This National Championship event had a new format voted on by the anglers! We gave the anglers their choice to fish black and blue or everyone fish all three days this year 100% voted to fish all three days! So it was a shootout!   Even with a small field, the NBAA gave out over

$36,000

in cash and prizes! The anglers also decided to pay the Top 3 Places Day 1 and Day 2, along with a daily big fish pot ($330 daily), with an overall tournament big bass to revived a $200 Cabela's Gift Card! There was also over $36,000 in cash and prizes to be awarded for this event including a new Ranger RT178 Boat with Evinrude outboard and MInn-Kota Trolling Motor!  Also in the event there was 5 tagged fish weighed in!! No big money fish, but most were $50-$100 gift certificates to local restaurants/casinos!

Coming in 1st Place Overall with a 3 day total of 60 pounds 2 ounces was Jason and Jennifer Willbur! They walked away with Day 1 first place ($500), a new RT178 Ranger boat with a Minn-Kota Trolling motor, and powered by a Evinrude E-Tec Motor! For a complete first place package worth over $18,000.00
They also recived a $500 PAID entry to fish the Cabela's North American Bass Circuits North divisions first event May 10th on Sturgeon Bay  where a 1st place win there could net them OVER $10,000.00 CASH !!

Coming in at 2nd Place, also with Day 2 big fish, and biggest weight of day 2 ($830 total winnings for day 2) with a 3 day total of 58 pounds 15 ounces, Brian Doyle and Josh Kolodzaike!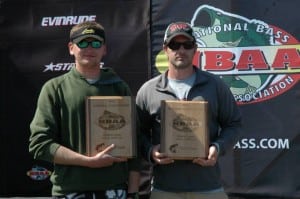 3rd Place went to Chris and Vaughn Capasso with a 3 day total weight of 56 Pounds 11 ounces!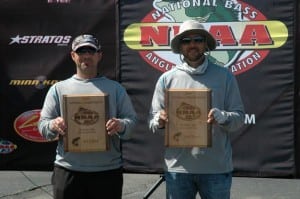 Big Fish Overall went to Jim and Tom Wendt, with a 6 pound 6 ounce beauty! That fish also won them big fish for Day 1, and won them $530 overall!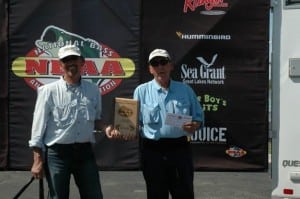 Here is a group photo of the top 10 finishers! Thanks again to all the anglers who made this event a success!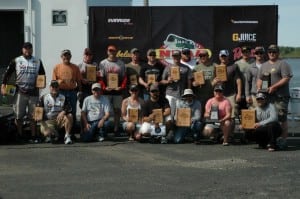 Once again a big thank you to Grove, OK, Grand Lake Association and Indigo Sky Casino for being such a great host for the event, and to our anglers!