First, we would like to start off by thanking all of our Directors and Members that showed up to make this event the success that is was, and the Kalamazoo area chamber of commerce for hosting this great event! Most anglers experienced a tough bite, but there was still many limits of fish caught during the event, and some really nice fish too! Below is a picture of some of the anglers that fished the event, and of the beautiful morning that was provided for launch of the event!
We also want to thank those of you who did our "Early Bird" online registration! Our Early Bird Prize drawing winner Andy Rosales(Pictured Below) Won a nice Humminbird PirahnaMAX fish finder, and a MinnKota one bank charger!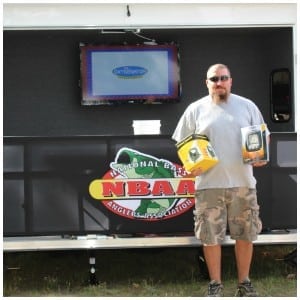 Anglers had the chance to buy into the Big Fish Pot the morning of the tournament, which paid the Top 3 biggest bass of the event! We ended up have a tie for 3rd Place Big Bass with Daniel Houser and Mark Semple both weighing in a 3 pound 4 ounce bass! Runner up and in 2nd Place for big bass was Tyler Barnes, with a nice 3 pound 13 ounce bass! Your big bass champion for this event was Ed Dyer, and his nice 4 pound 5 ounce fish! Congrats guys on some nice fish! Below is a picture of our Big Bass Winners! and also a picture of Ed Dyer with his big bass winning fish!
With a 1 in 5 Payout, the top 8 anglers were paid in this year's One on One National Championship, and we had a nice "Just out of the Money" Prize pack for Cory Sterkerbag (10th Place with 8.03 pounds), and Chris Nguyen (9th Place with 8.04 pounds) who just barely finished out of the money. First in the money at 8th place was Curtis Talley with 8 lbs 10 ounces! 7th place was Robert Miller Sr. with 9 pounds 3 ounces, who was barely edged out by our 6th placed angler, Aaron Feeback, who had 9 pounds 5 ounces! Along with a cash payout our 6th-8th placed anglers also received a nice NBAA spinning rod!
Top 5 Anglers
Pictured Below are our Top 5 finishing Anglers!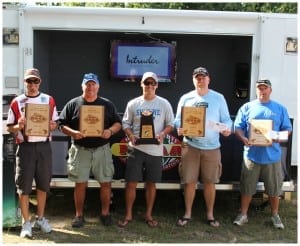 Just breaking into the Top 5 anglers, finishing in 5th Place, with 9 pounds 7 ounces was Scott McDiarmod, with a nice 4 fish limit of bass! Congrats Scott! (Pictured Below)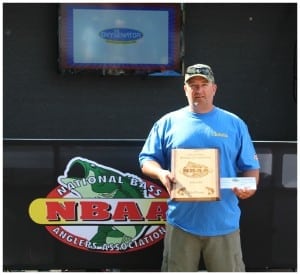 Coming in 4th Place, our Big Bass Champion of the event, Ed Dyer with a 5 fish limit weighing 10 pounds 4 ounces! Congratulations Ed! (Pictured Below)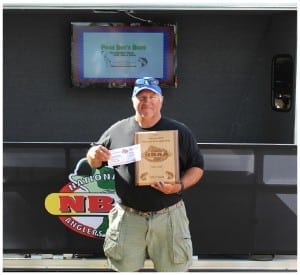 3rd Place honors go to Miles Hanley with his 5 fish limit coming in at 10 pounds 9 ounces! Congratulations Miles! (Pictured Below)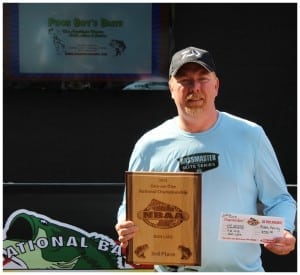 Our 2013 NBAA National Championship runner up, and 2nd Place finish, with a 5 fish limit weighing in at 12 pounds 1 ounce, Daniel Houser! He had a pretty good bag of fish, with 2 really nice bass! Below are some pictures of those fish, along with Daniel and his 2nd Place plaque!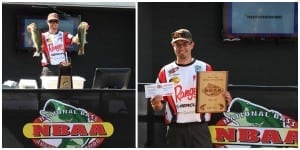 Finishing on top of the field, and your 2013 NBAA One on One National Champion, Mark Semple! Mark had a nice 5 fish limit weighing in at 13 pounds 15 ounces, and making him this year's champion! Mark is not only now the proud owner of this nice 1st Place trophy, but a brand new Pro Series II, 8 foot  Powerpole! Congratulations Mark!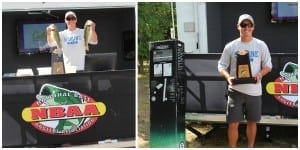 After the awards ceremony, we held a free prize drawing for those who attended this year's tournament, where boat numbers were called up to select prizes off of our prize table! We hope everyone had fun and enjoyable experience at the 2013 NBAA One on One National Championship, and thank everyone who attended, making this event the success that it was. You can view full results by click the following link: 1 on 1 National Championship    You can also view a photo album of the event by CLICKING HERE!