NBAA Fall Classic
Sept. 19-22, 2013
On Burt and Mullet at Indian River
We want to thank all the anglers that came out and fished the 2013 Fall Classic! It was a great event, and we want to thank the town of Indian River for hosting the event for us and our anglers! This event hosted a 687% pay back! The coveted prize of the tournament was a brand new Ranger R178 Aluminum Bass Boat, equipped with a 60 HP Evinrude E-Tech! Total package value of $18,995!! We would also like to thank our sponsors: Ranger Boats, Cabela's,  Humminbird, Minn Kota, Lucky Craft, Poor Boy Baits, Intruder, The Oxygenator, and Case Plastics for all of their support throughout the year. There were some really nice fish caught in the tournament, and as a testiment to just how big these fish are will be reflected in the weights below!
Click the following text for Final Results: Fall Classic Final Results
CLICK HERE FOR FULL PICTURE GALLERY
With a two day total of 42 pounds 10 ounces, Chad Helsel and Brian Pfeiffer win the 2013 NBAA Fall Classic! They are the proud owners of a brand new Ranger R178 Aluminum Bass Boat, equipped with a 60 HP Evinrude E-Tech! Total package value of $18,995!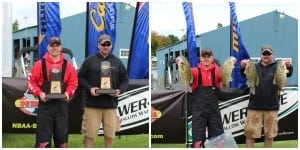 Coming in 2nd Place with a two day weight of 40 pounds 12 ounces, Jack & Jack Sage!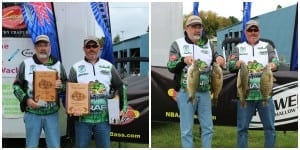 3rd Place was taken by Jim and Danny Sprague with a two day weight of 39 pounds 4 ounces! They also wound up with Day 2's 3rd Largest Bass!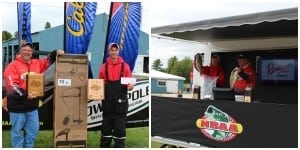 Coming in 4th Place, and with Day 2, and overall all big bass of the tournament (which was 6 pounds 5 ounces) and a total two day weight of 36 pounds 13 ounces, went to Daiel Copeland and Scott Tyrell!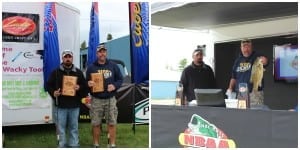 Mike Sudberry and Chris Stier finished 5th with a two day weight of 36 pounds 8 ounces!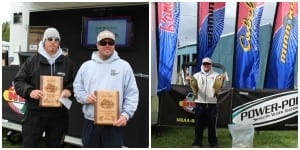 6th Places was the last paid spot of the tournament, and it went to Chris Cucksey and Edward Schiller, with a two day weight total of 35 pounds 10 ounces!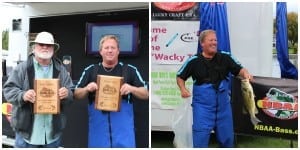 Congratulations to John May and Terry Campbell! They were our "Early Bird" Prize drawing winners at the 2013 Fall Classic event! The prize package was a Minn Kota 3-Bank Charger and a Humminbird PirahnaMax 153 locator! (Pictured Below, Click on Image to Enlarge)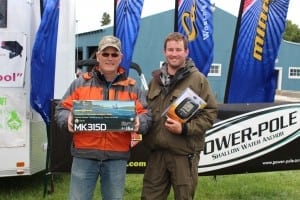 Early Bird Prize Drawing Winners!
We also had 2 prize tables set up with sponsor products. Angler's boat numbers were called and each team got to pick items off the table! We also gave away another 3 bank charger, and a few other PiranhaMax locators! Here are some pictures below! (Click on Image to Enlarge)

Reminder for Fall and Spring Championship Tournament Qualifications For this year only: (Fall 2013\Spring 2014)
Overtime division fish 8 out of 12 instead of the past years 11 of 12 to make a championship. 
We want to reward those anglers who stuck through the transisition early in the year, so for those NBAA anglers we want to give you a chance at a special reward. Any team who fishes 11 out of 12 overtime or 5 of 5 weekend events this year will be entered into a drawing where we will award one(1) very special prize.
A PAID hotel room for the week at the Spring Championship at Grand Lake and a $250.00 Cabela's Gift card!
Make plans to attend the Grand Lake event next spring!
NEVER BEFORE IN NBAA HISTORY IS SO MUCH MONEY GOING TO BE ON THE LINE!  
The Grand Lake area Chamber of commerce is rolling out the red carpet for NBAA anglers and will be holding a tagged fish event in conjunction with the NBAA Spring Championship IN ADDITION TO THE REGULAR PAYOUT!
Anglers will have the opportunity to enter this tagged fish event, and attempt to catch a fish worth: A QUARTER OF A MILLION DOLLARS~!!! ($250,000.00)
There will also be FISH TAGGED WITH  $100,000.00 and many more fish worth 10's of thousands of dollars!
500 fish in total will be tagged with prizes YOU COULD WIN while you are there!