Congratulations to Bobby and Amy Wilford, Your 2014 MI State Champions!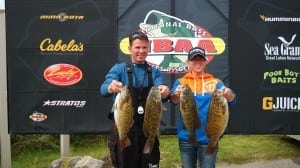 We want to say thanks to the Alpena CVB for being such wonderful hosts for this event, and to the Sanctuary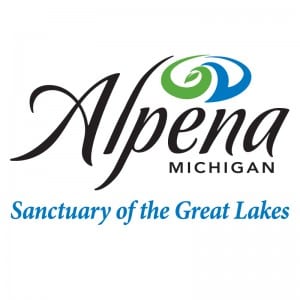 Inn for hosting the registration/rules meeting, and providing a wonderful FREE meal for our attending anglers! We also want to thank our host hotel, Days Inn of Alpena for being the Host Hotel, and providing early breakfast for our anglers staying at the hotel by having breakfast available by 5 AM.  There was 41 teams participating in this event, and the top 10 finishing boats will advance to the National Championship, and the top 10% receiving paid travel stipends (top 4 finishing teams). The top 20% of the field (8 teams) walked away with a check in this event, and a Minn Kota Edge 70 trolling motor was given away along with a Minn Kota 3 bank and 1 Bank charger!
On a windy and rainy day on Hubbard Lake, MI, the Wilford's battled the elements for a nice 5 fish limit weighing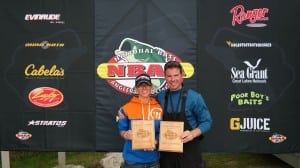 in at 22 pounds 7 ounces! They also took home 2nd place big bass honors with a 5 pound 15 ounce football of a smallmouth! The walked with not only the satisfaction of being your 2014 MI State Champions, but also received $1,000 for first place, $1,200 in travel stipend money to use to fish Nationals, $300 for 2nd place big bass and some nice plaques!
Coming in at a VERY close second Place was Tad Dowker and Jeremiah Steffen weighing in 22 pounds 3 ounces! They walked away with $650 cash for 2nd place and $874 in travel stipend money to use towards fishing the National Championship this upcoming spring.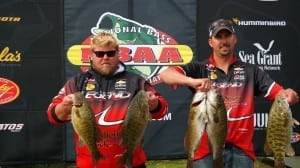 3rd Place went to John and Zach Laupp who weighed in a 5 fish limit weighing 16 pounds 6 ounces. They took home $530 in cash and $600 in travel stipend money to use towards fishing the National Championship in spring.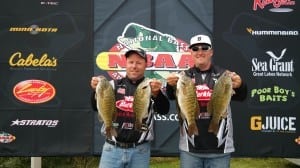 4th Place and the final team to receive a paid travel stipend to advance to the national championship was Charles Billington and Charles Standhardt, weighing in a 5 fish limit coming in at 15 pounds 14 ounces! 4th Place paid out $275 and $300 in travel stipend money.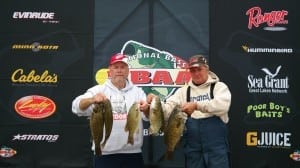 Big Bass of the Tournament was worth $460 and went to Pete Lusis with his nice 6 pound 5 ounce football of a small mouth!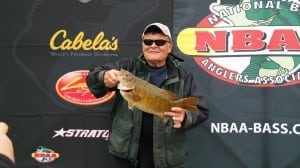 It was an amazing location and event, and we want to thank all of our anglers that came out to represent their divisions and the NBAA at the 2014 Michigan State Championship! We want to thank all the volunteers for their hard work they did for us at this event!