The rain once again hammered down as the 91 finalists took off on Kentucky tournament waters. After a year of competition in their local divisions, and fighting their ways through over 100 teams in the black and blue qualifiers, this was it. The rains led to rising water levels and strategy changes, mostly leading to the banks.
With only a handful of boats to go, David Hasty and Seth Borton took the lead with 18lbs 13ounces. From there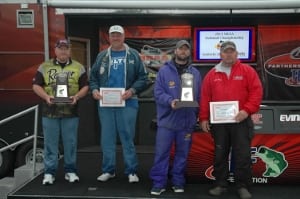 all the duo could do was sit in the "hot seat" and wait. Many teams came close as the weigh-in continued but the lead wasn't contested until Eugene Steinke and Dave Burton approached with 18lbs 13ounces to lock it in with a tie.  The crowd and the competitors anxiously awaited the tie-breaker rule.  But, when both teams were offered the chance to share the title, they gladly accepted.
After a few moments, both teams shook hands and two teams were crowned NBAA National Champions. Both teams also won brand new Ranger Aluminum 178 boats with fiberglass consoles.  Since the teams split the titles, the prize money for first and second was combined and split, awarding each team $2,500.
Hasty and Borton targeted deep-water near shallow flats, using a 10inch worm staged for fish going in and out of pre/post spawn regions. The team fished a number of black and blue divisions this year, with intentions to qualify on both days, and they did.  This marks the team's second championship title; they won the championship on Kentucky Lake in 2011.
Steinke and Burton used black and blue jigs as their primary strategy fishing the banks.  "We knew with the water levels rising we'd have to move up the bank," Steinke said.  "We caught pretty much all our fish in the shallows today.
We were doing great on practice days catching 18 lbs, next thing we know blue day comes around and we only pulled in 7 lbs," Steinke continued.  However, their 14lb sack on the black division day would be just enough to get them to the final cut.
All teams qualified for the championship by fishing 11 out of 12 overtime divisions or 4 out of 5 weekend divisions. Next year's state championship will be on Grand Lake in Grove, Okla., with 105 divisions and counting.  New divisions are starting across the United States; check out a list of divisions and areas at www.nbaa-bass.com. It's also very easy to start a division, simply click the "contact" tab at www.nbaa-bass.com and request to start your division.  Inquiries will be sent an introduction packet on how to proceed. If you have an existing tournament trail, NBAA ties in great plus offers opportunities for your anglers to qualify for a national televised event.